3-in-1 Bezel
Modular in design, the MEI CashFlow 3-in-1 cashless bezel is perfectly suited for cash and card-heavy regions. Considered a "Recycler-Ready" solution, its compact form gives operators the ability and space to deploy both cashless and recycling technology in virtually any vending machine. This popular card reader can mount to an existing MEI VN2700 validator or it can be purchased as a total solution with a validator included.
When combined with the Advance 5000 telemeter, the MEI 3-in-1 cashless bezel meets PCI PA-DSS requirements, giving operator's confidence that their cashless solution meets the industry standards for security.
Benefits
LED lights on the bezel interact with consumers in real time to inform them of which notes denominations have been accepted
Attractive display and runway lighting draws consumers in to even the darkest locations and indicates where to swipe cards on the bezel
Transaction status is communicated on the two-line digital display, next to a visible button to cancel unwanted transactions.
Unwanted transactions can be easily cancelled with the highly visible "END" button
Specifications
Type of Payment
Accepting Magnetic stripe, Coupon, Cash
Display Type
2 x 16 LCD, Multilingual support
Hardware/Interfaces
Power Supply: 5v DC regulated supply - Recommend 1Amp peak capacity
MSR: 2 track bi-directional
Compliance
RoHS, FCC, Water Ingress: IP21, ESD Protected
Accessories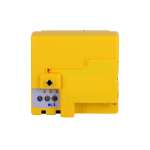 Advance 5000
The Advance 5000, also known as A5K, is CPI's telemetry solution that will add connectivity to your vending machine and handle the communication between your card reader and the Acquirer's bank, to guarantee a fast and secure transaction. PCI DSS certified when paired with an Advance 5000 telemeter.