eChoice™ EMV Bezel
With more ways to pay than ever before, consumers demand flexibility at the point of sale. Increase their options and your revenue with the MEI eChoice™ EMV cashless bezel portfolio. Three distinct designs allow you to choose the best solution for your business and deliver the convenience that your customers expect.
More payment options result in sales increases due to the convenience consumers now have to make the purchase using whatever form of payment they choose. This popular card reader can mount to an existing MEI VN2700 validator or it can be purchased as a total solution with a validator included.
When combined with the Advance 5000® telemeter, the MEI eChoiceEMV cashless bezel meets PCI PA-DSS requirements, giving operator's confidence that their cashless solution meets the industry standards for security.
Reliable, secure and EMV certified, the MEI eChoice card reader delivers the performance that you need for your complete connectivity solution.
Benefits
Multiple Designs enable operators to choose whether they want to accept cash, credit, EMV, and/or contactless technology, including Android Pay™, Apple Pay™ and Samsung Pay™
Compact Design integrates seamlessly with existing hardware, requiring no machine modification
Enhanced LCD Screen elevates the customer experience with multi-language capability, graphic images and scrolling messages
High-visibility Runway Lights attract customers and illustrate payment points, increasing the ease of every transaction (eChoice 4 & eChoice 5 options only)
Multi-button Functionality reproduces the retail experience and supports loyalty applications that incentivize repeat business
Secures card holder data via industry standard encryption
EMV certified for Contact and Contactless acceptance
Certified by Visa™, MasterCard™
Accepts custom made MEI coupons for promotional incentives and discounted vending programs
Specifications
Type of Payment
See variants for all types accepted
Display Type
128 x 64 Graphic, Multilingual support
Hardware/Interfaces
Power Supply: 5v DC regulated supply - Recommend 1Amp peak capacity
Audio Visual: LEDs and audio buzzer
Processor: ARM Cortex M4 Processor
Compliance
CE, RoHS, FCC, Water Ingress: IP21, ESD Protected
Security
DUKPT Encryption, RSA, TDES
Variants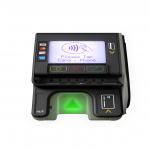 Accepts all forms of electronic payments, plus cash when paired with a bill acceptor.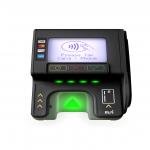 Accepts magnetic stripe, EMV, and/or contactless technology, including Android Pay, Apple Pay and Samsung Pay.
The eChoice™ 4 accepts:
Magnetic Stripe Card Track 1 / Track 2 - ISO 7810, 7811 and 7814
Contact: EMV L1 and L2 Certified
Contactless: EMV L1 Certified
Visa payWave / qVSDC
MasterCard Paypass - M/Chip
Mifare Classic
Mifare DesFire
Mifare Light
Mifare Ultralight
Ultralight
ApplePay VAS
AndroidPay SmartTap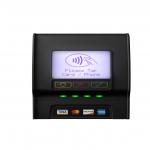 Accepts all NFC payments, such as contactless credit cards and mobile payments, including Android Pay™, Apple Pay™ and Samsung Pay™.