SNR
The Single Note Recycler (SNR) is a field proven, highly efficient yet compact single denomination bill recycler that includes note validation technology. This multi-width, single note bill recycler was designed to reduce cash handling costs for the Operator. It accepts and dispenses bills one at a time, and automatically replenishes the bill dispensing cassette using end-user inserted notes.
This unit can be used in several payment systems with a coin recycler or hopper, including Parking pay-on-foot (POF) stations and bill payment kiosks.
Benefits
Reduced cash handling costs with fewer cash-related service calls for coin depletion and note collection
Increased user satisfaction in your machines as customers can now pay with higher denominations and no longer receive bulk coins as change
2 digit LED display shows the number of bills in recycling cassette indicating whether service will be needed soon or not
Fast bill acceptance and payout for a better consumer experience; complete transport cycle at only 2.5 seconds
Specifications
Dimensions (H x W x D mm)
Note validation
62mm - 77mm Width
120 mm – 160 mm Length
Maximum Stacking Capacity
400 or 600 notes in drop cassette
Note Memory Capacity
30 or 70 notes (denomination configurable)
Firmware Updates
Memory stick, Interface connector
Compliance
CE, IEC 60950-1, FCC, ICES-003, RoHS
Bezels
Standard plastic, Coin-proof plastic, Coin/Vandal-proof metal
Validation Sensors
Optical, Inductive, Dielectric, Cross-channel (anti-stringing)
Variants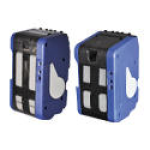 The 60 bill recycling cassette can be configured to any denomination. Alternatively, the recycling cassette can be used for multi-escrow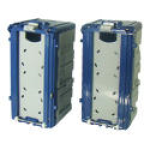 300, 400 or 600 bill capacity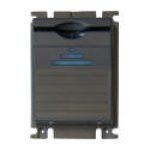 Our bezel options have been designed to provide the most attractive and intuitive payment transaction experience your customers demand.  Contact your Account Manager for a list of available bezel options.
Accessories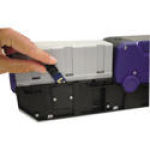 Blue Chip Programming Card
A fast, convenient and cost effective way to update your bill recycler. No costly handheld device needed.  Simply insert the card, wait 10 seconds and remove it.