Back To Resources
Learn how Londis Dagenham has been able to reinvent their cash handling processes and eliminate discrepancies and shrink. 
First of all, who are you and what does your company do?
My name is Vrajesh, and I own a convenience store based in Dagenham run by father and son.
What problems were you facing that lead to you look to Paypod for a solution?
We constantly had discrepancies due to counting errors, and would always have a cash shortage of around £10 - £15 each week. We would also come across counterfeits, on a weekly basis of around £20 as well.
Where did you start your search for a solution?
We knew we wanted something to support us when it came to cash automation. I looked on the internet and then had a word with our POS supplier, ITRS. In turn, they recommended the Paypod to us. I had also seen Paypod on one of the ACS (Association of Convenience Stores) emails and went on to research it more from there. Following a lot of research as well as a chat with ITRS, I went to visit their head office where they had a Paypod up and running in their dummy store. This gave me a chance to have a play around with it and ask as many questions as I needed.
Why did you end up choosing Paypod?
With Paypod it comes down to simplicity. It is super easy to use for both staff and customers.
What made Paypod a good fit for you? 
We had objectives we wanted to achieve and saw straight away that Paypod would work for us. As well as discrepancies, another one of our issues was the prevention of theft from robberies. With Paypod being a secure unit, we knew this would eradicate the problem, not only counting errors, but also prevent any theft as the cash is physically locked away.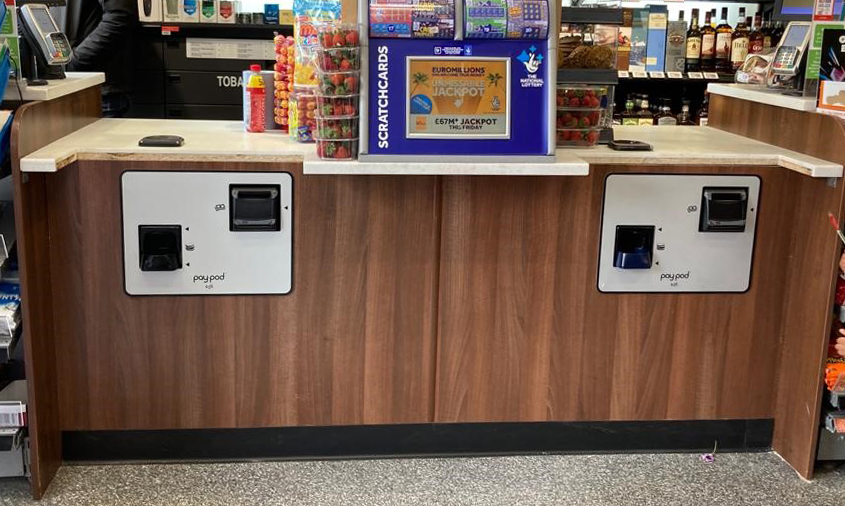 Paypod at Londis Dagenham
Specifically, what was the best thing about our Paypod? 
The fact it solves all of the issues we have had. It gets rid of all the counterfeits we use to receive by immediately rejecting them back to the customer. It also gets rid of the chance for customers to say they paid with a £20 note, when in fact they actually paid with a £10. There's no need for us to check change anymore and be unsure on what we've given the customer as Paypod does all of this for us. 
How do you use our Paypod? 
Connected to POS till within the counter; we have two tills on site, and we use one Paypod per till. 
What results have you achieved with Paypod?
"We've managed to completed eradicate counting errors and counterfeits."
Would you recommend Paypod to other Convenience stores?
Yes – Cash nowadays is still a huge part of our business and having a system that supports that with cash automation makes our lives so much easier when it comes to the way we operate. With the way things are going, theft is also on the rise too, and this is great way of preventing theft and keeping counterfeit and foreign currency away, effectively saving us much more time when it comes to cashing up.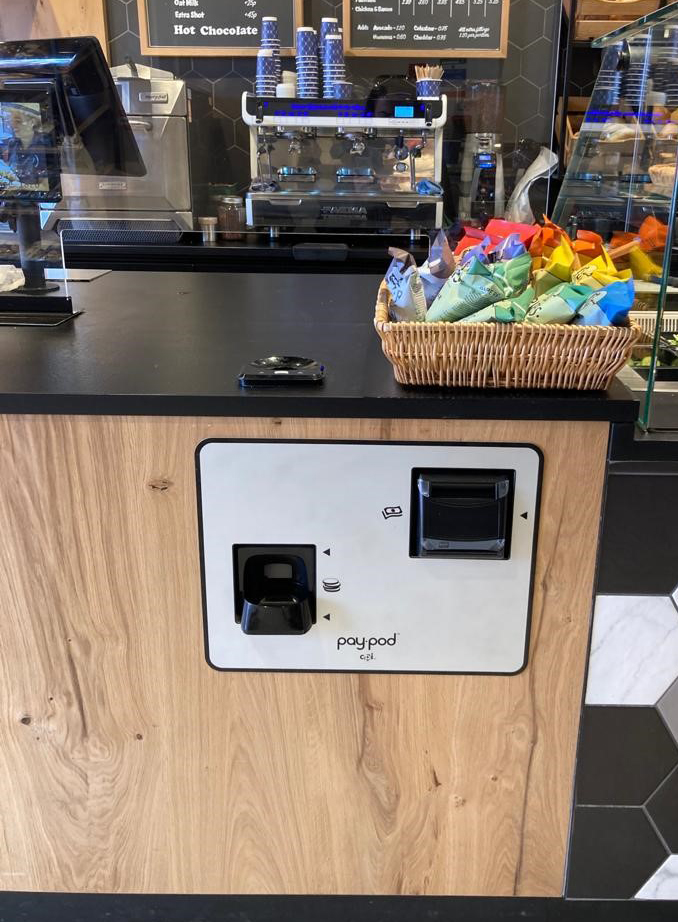 Paypod fits easily into existing counters
What has exceeded your expectations since working with CPI?
The level of service we receive from CPI. If something goes wrong, there is always someone at the end phone with an answer or able to assign an engineer. Most of the time, depending on time of the call, we have an engineer out the next day. The engineer always calls on route to see if they are able to remotely fix the problem before arriving and if not, they turn up on site in a short time frame ready to fix our problem. 
What made you happiest about working with CPI?
We were looking for a simple to use system and Paypod really does meet all of our requirements, and does what it says on the tin. The level of support means we always have someone just a phone call away to answer any questions we may have.
Is there anything else you'd like to add?  
All of our customers absolutely love it. They come into the shop and say "wow, what is this?" And they're excited to use it. Being in the area that we are, they are surprised to see it, but they get excited to use it and really like the unit.
Market Solutions
Explore what CPI can solve for your market