Back To Resources
It's no secret that consumers crave self-checkout; in fact, 87% of consumers queried by Bloomberg said they prefer shopping in stores with robust self-checkout options. But introducing self-checkout does more for c-stores than delivering on customer demand. It also benefits the business—in more ways than one. CSN recently sat down with Bassam Estaitieh, business development strategic marketing director, retail at CPI, to discuss these benefits and how to maximize them.
CSN: CPI recently added end-user companies, including c-store operators, to its customer base while continuing to work with OEMs. Why?
Bassam Estaitieh: We've found that we can provide additional value to customers by leveraging our history and expertise in cash management to advise on improving cash management practices in stores in general. Focusing on OEMs as well as retailers helps them optimize their cash management practices, because we also have other equipment in our portfolio— like back-office cash counters and safes, so we have many ideas on how to make the whole process seamless. Regardless, we ensure that the system we sell to each operator suits its needs and is not a 'one-size-fits-all' configuration. We can streamline implementation and provide c-stores—and all retailers—with a complete range of support and services.
CPI develops integrated technologies that keep customers moving. Our full portfolio includes everything from self-checkout, custom kiosks, and attended lane automation to smart safes, cash processing and fourth wall revenue solutions. With 30 million devices in operation, processing 40 million cash payments and powering 4 billion transactions each week, we have everything customers need for productivity and peace of mind. Whether you're a local independent or a large multinational, CPI solutions enhance your customer experience, reduce labor costs, and increase throughput.
CSN: How does self-checkout technology benefit c-stores' business?
BE: Automation—including self-checkout— is the future of solving business problems and reaping business benefits. Let's start with labor and relieving pressure tied to the labor shortage. With self-checkout stations, you still need cashiers, especially to accommodate customers who are unwilling or unable to use self-checkout machines. However, you don't need as many of them—instead of assigning a cashier to each register, you may only need one employee to monitor several self-checkout stations.
But the story goes beyond this. Self-checkout frees up employees to spend time helping customers, contributing to a better customer experience and bottom line. Instead of assigning many of their associates to a cashier station, c-stores can 'repurpose' to help build relationships with customers and assist them in using self-checkout stations. According to a study by Mindtree, shoppers who interact with a sales associate are 43% more likely to purchase a product, and their transactions have 81% more value, compared to those who don't interact with an associate. Regular customers are the core of business, and it's important to maintain relationships with them. Removing physical barriers between staff and customers—allowing employees to step into floor space to speak with shoppers— can help with this. And of course, freed-up associates can also handle other important tasks, like stocking products and cleaning.
Then, there's optimizing the shopper experience. The better that experience, the more satisfied customers are and the greater the potential to prevent lost sales and cultivate shopper loyalty. Figures from Fidelity Payment Services indicate that 81% of consumers avoid stores where they think lines are too long, and a study by Intel and Box Technologies shows that 41% of customers will abandon a purchase because of long checkout lines. Self-checkout creates the opposite effect. Self-checkout can also save c-store operators a lot of money and increase business efficiencies. Take cash-handling. IHL Consulting says two-thirds of the cost of handling cash is the labor involved in manual cash drawer processing—opening and closing the cash drawer, counting and providing change, and reconciling the cash drawer at shift's end. IHL also found that the average cost of cash in the c-store segment is 8.3%—versus the approximately 2% of each purchase retailers pay in credit card processing fees. And physically making deposits can be time-consuming as well as expensive. While implementing self-checkouts means an up-front investment, the savings on cash handling and the increase in margins quickly yield a quantifiable benefit.
C-STORE OPERATORS SHOULD CHOOSE A TECHNOLOGY PROVIDER THAT ALSO SERVES AS A TRUSTED PARTNER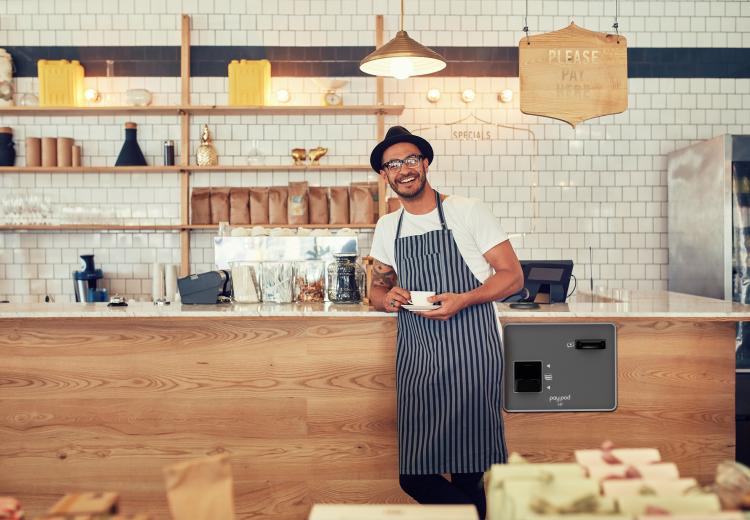 CSN: How can c-store operators maximize the potential of selfcheckout to overcome their business challenges?
BE: Insist on self-checkout technology that accepts cash payments along with electronic ones. If you only accept credit and debit card payments, you're sacrificing sales. Consider the numbers: According to the Federal Reserve, 47% of transactions under $25 are paid in cash. A study by Cardtronics found that 63% of convenience store purchases are made in cash. Self-checkout payments with loyalty card apps should also be an option. Think about this, too. To reap a real ROI from self-checkout, you need to automate cash. The labor savings from cash management increases ROI much more significantly than is the case with card-based transactions. With cashless- only self-checkout, c-stores can't fully eliminate a cashier, as cash would need to be taken in the staffed POS lane, increasing lines.
Additionally, some c-store operators have been moving away from accepting cash because they assume cash transactions add to their costs and their financial challenges, when in fact inflation has significantly increased the cost associated with credit card transactions. Remember, card processing fees are a percentage of the transaction, and as transaction totals are higher because merchandise now costs more, processing fees are higher as well. Conversely, the cost of managing cash is the same no matter what—it's becoming cheaper to handle as inflation boosts prices.
Just as important, building relationships with customers and carrying a wide assortment of products can be a challenge for c-stores. Opting not to accept cash in self-checkout lanes is unfair to customers who prefer to pay in cash, as well as to unbanked and underbanked shoppers who have no choice but to do so—and it can be a turnoff for them. Plus, taking cash at the self-checkout allows customers to get cash back, possibly eliminating the need for an in-store ATM and freeing up floor space for additional merchandise.
C-store operators should also choose a technology provider that also serves as a trusted partner. As I've already mentioned, we work one-on-one with c-store operators to create a self-checkout configuration that will accommodate their current and future needs, as well as to plan a streamlined implementation that will work for them. We've developed a suite of preventive maintenance and other services to meet individual c-store operators' specific requirements and can recommend the right plan for each of our customers depending on what those requirements are.
Our in-house service and support team comprises more than 500 service personnel, which gives our c-store operator partners easy, quick access to help from a CPI technician. Our technicians will also visit stores on request just to ensure that retailers' CPI equipment is in good working order. Additionally, we're committed to resolving service and support issues within 24 hours. It's part of our preventive maintenance agreements.
As it's easy to see, self-checkout offers many benefits to c-store operators—and mitigates multiple business challenges— when done right. We can help.
Click here to read more of this issue of CSNews.
Market Solutions
Explore what CPI can solve for your market